Our Performance
The slideshow below gives information on our school performance over the last 5+ years: A journey of rapid and sustained improvement, resulting in Whitchurch Primary School being a school where:
'Pupils make good progress... behave well... fel safe and enjoy school. Teaching is highly effective... the curriculum is broad and wide ranging. This is a good school!' (OFSTED)
To view our school perfomance tables on the gov.uk website, please click here.
Our latest KS2 SATs results come from 2018-2019, as no SATs took place in 2020 or 2021 due to covid.
We are pleased to have outperformed local and national schools in terms of children who 'meet the expected standards' in reading, writing and maths.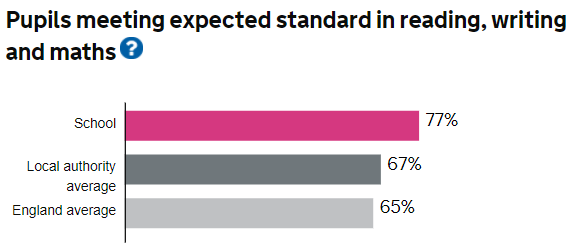 Similarly, we are pleased to be in line with national scaled scores in these areas.

We now aim to improve progress from Key Stage 1 to Key Stage 2, as although children are meeting end of Key Stage targets progress is only 'average'

We are also looking to improve the number of children 'achieving a higher standard' in these subjects: