Guided Reading
Early Years and Key Stage 1
In Reception, every child takes part in a Guided Reading session once per week.
In Key Stage 1, every child takes part in a Guided Reading session daily.
These sessions are focused opportunities for pupils to practise their decoding skills and read with increasing fluency. Children are grouped in order for the books to be pitched at an instructional level.
Each session follows this structure:

Key Stage 2
In Key Stage 2, every child takes part in Guided Reading sessions daily. These sessions are opportunities for children to develop their reading fluency and comprehension. We follow the VIPERS model to support this. The weekly guided reading structure is as follows:
Monday Tuesday Wednesday Thursday Friday

Developing fluency
Reading fluency is described by Such (2021) as 'a pre-requisite for the comprehension that is the purpose of all reading. The Education Edowment Foundation (EEF) explains that fluent readers demonstrate automaticity in recognising words, allowing them to focus on comprehension and deeper understanding of the content.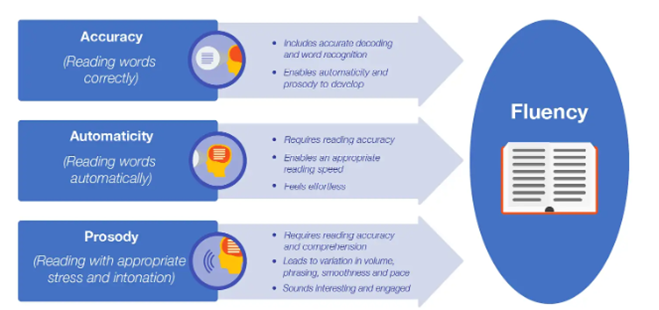 At Whitchurch Primary, we understand that, in order to become fluent readers, our children must have lots of decoding practice. This is achieved by:
Allocating all children reading books which are pitched appropriately to match their phonic knowledge until they are fluent readers. Pupils are not asked to read books that require them to guess words or deduce meaning from pictures, grammar or context clues.
Giving our pupils the opportunity to read their reading books regularly in school (1:1 with an adult as often as is possible)
Having a fluency focus in Early Years, Key Stage 1 and Key Stage 2 Guided Reading sessions to ensure children are hearing an expert model of fluent reading, with opportunities to practise this themselves.
Pupils in Early Years and Key Stage 1 take home a decodable book. Pupils are expected to read their decodable book at least 3 times to develop fluency and prosody.
Developing Comprehension
The central purpose for reading in every session is the deriving of meaning from the text under study.
As stated in the Reading Framework (2023), understanding vocabulary is vital for comprehension at all stages – both reading and listening – and so for all pupils' wider learning and progress. For this reason, we have included explicit vocabulary instruction in our Teaching of Reading structure throughout the school.
To develop reading comprehension, we follow the VIPERS model. VIPERS is an acronym to aid the recall of the 6 reading domains as part of the UK's reading curriculum. They are the key areas which we feel children need to know and understand in order to improve their comprehension of texts.
Vocabulary
Inference
Prediction
Explaination
Retrieval
Summarise