Year 1/2: Penguins, Mrs James and Mrs Hay
If you are isolating and cannot come to school click here to find your lessons! You'll need to find your class first, then the week, then the day! Click on the lessons to see them!
Hello and welcome to Penguin's class page.
Below is a weekly timetable for our home learning offer. This will all be delivered via teams. If you can not get onto teams please let the office know. Documents that are useful to have printed are in the files of Teams, these will be uploaded on a Friday for the following week. If you would prefer them emailed to you please send me a quick email and I can send them over lauren.james@whitchurchprimary.co.uk
Thank you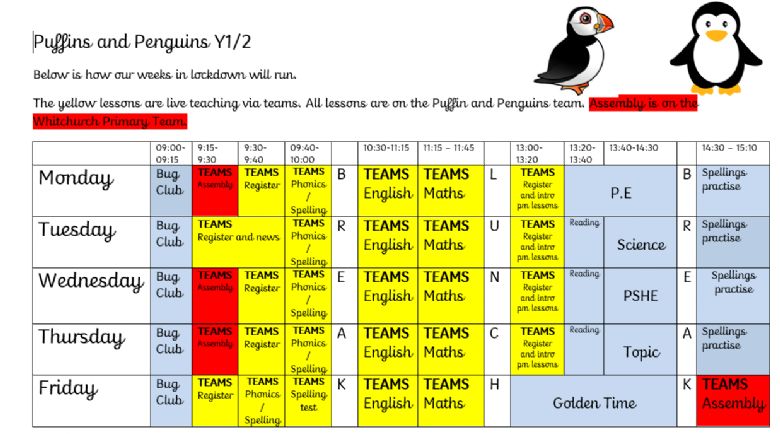 Friday 8th January – Home Learning -
THERE WILL BE NO LIVE TEAMS TEACHING TODAY DUE TO STAFF BEING IN SCHOOL WITH KEY WORKER CHILDREN. THIS WILL CHANGE FROM NEXT WEEK.
Well done Puffins and Penguins for completing your first week of online live teaching through Teams. We are all incredibly proud of how much you have achieved this week!
Here is your home learning for the day:
Phonics (Year 1 ONLY) – Today we are learning the e-e sound. Please read the words on this PowerPoint and then complete the sheet.
Spelling (Year 2 ONLY) – Practice next week's spellings which can be found on your class page on the Whitchurch primary School website. Then put each spelling into a sentence using a conjunction.
SPAG – Proper nouns are names of people, places and objects that need to be capitalised, such as Paul, Bristol and Coco Pops (as that is the name rather than the object of 'cereal'). Please copy out the piece of writing and use capital letters for each proper noun. Year 1 only need to do one sentence.
sam walked into bristol to deliver a letter. He lived in bristol and liked to walk through streets where he can see his friends tom and helen. sam's birthday is in january and he wanted to plan a fun party.
BREAKTIME
English (Whole Class) – Meet Scratch the Cat.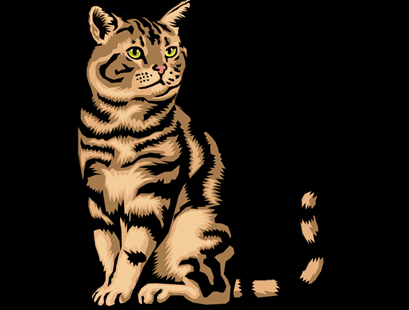 https://www.youtube.com/watch?v=5VcvkK93Ub8 Watch this video all about cats and then create a leaflet about Scratch the Cat using the subheadings:
"What might Scratch the Cat eat?"
"How does Scratch the Cat exercise?"
"Interesting Fact"
All of this information can be found in the video. Puffins and Penguins, you made multiple leaflets throughout last term, so should be able to draw on last term's knowledge to help set out your leaflet. Remember you need a new line after you subheading!
Maths (Whole Class) – Please click here to view the powerpoint on how to halve numbers. Then click here to do an activity. Remember you only have to do one sheet.
LUNCHTIME
Golden time/ Choosing – As in school, Friday afternoons are going to be golden time, this is free-time for you to do your own activities or crafts before PRAISE assembly at 2:30.
See you back on Monday! Please log on to Bug-Club and read from 9-9:15. At 9:15 Mr Hornsby will hold an assembly on the Whitchurch Primary School team.
Once the assembly has finished, we will start your lessons on the Puffins and Penguins team on Microsoft Teams.
Have a lovely weekend!
Miss Fudge, Mrs James and Mrs Hay :)
Please click the links on the right to explore our page.